The Millennium Forests : School Program (2000-2002)
Mercy Primary School, Cappoquin, Co. Waterford:
Lankill National School, Westport, Co. Mayo:
Gwen visited the pupils of Lankill National School on the 14th of November, 2000. The pupils were ready and waiting for her and as you can see from the photo below, had colourfully decorated lots of milk cartons to plant their acorns into.
The pupils already knew quite a lot about trees as they had each picked a tree to do a project on before Gwen came and when they for a walk in Tourmakeady wood, they were able to see some of the trees they had learnt about living in the wood.
Their teacher, Suzette Hughes, took lots of photographs in the wood and one of these even appeared in their local paper - The Mayo News!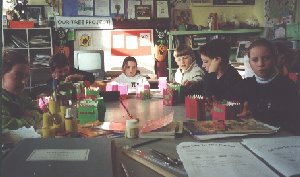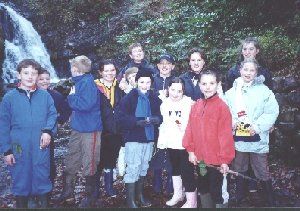 Back to school list