The Millennium Forests : School Program (2000-2002)
Presentation Senior School, Mullingar, Co. Westmeath:
The girls from 6th class in the Presentation Senior School came to visit Portlick forest in Co. Westmeath on Tree day (20/10/00). They had a great time as you can see from the picture and the extracts from a story, which was written by Fida Ali, below.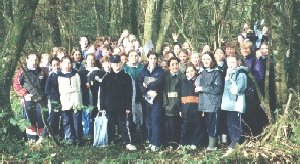 A Trip to a woodland:
It was National Tree Day. The forest that we went to was called Portlick Forest. When we arrived we were excited. Then we met a guide called Gwen. She guided us through the forest and she showed us the different trees.
I saw an oak tree, ash and other different trees. It was very muddy!
We collected different leaves from different trees and nuts. I collected hazel nuts, ash keys and an acorn, from the oak tree. I collected a lot of nice leaves too.
At home I told my family about the trip. The next day, when we went back to school we planted our nuts and learned about trees.
I liked the trip, but I didn't like the mud!
Fida Ali (Recently moved to Ireland from Sudan)
Back to school list